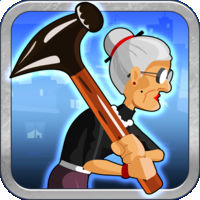 Release Date: 2011-12-13
Current Version: 1.9.0
Adult Rating: 9+
Developer: AceViral.com
Compatibility: iOS, Android
Rating:

4.33357/5 from 1,421 votes
Angry Gran is angry and needs money! Whack your enemies like piñatas until the cash comes flying out.
With a plethora of crazy weapons including an inflatable hammer, a baguette and a rubber chicken, madness is sure to ensue.
What's in the secret recipe? Why does the tree taste fruity? How on Earth did Granny get a hold of a skateboard? Download now for FREE and find out!
=============
Chart Ratings
=============
NUMBER ONE! in United Kingdom, Austria, Finland, Greece, Indonesia, Pakistan and Russia Games charts and maybe more!
Reached NUMBER TWO! in the United States of AMERICA! in ALL free apps.
TOP 10 in at least 21 countries in FREE apps.
TOP 5 in at least 18 countries in GAMES chart.
Download free Angry Gran app for iPhone, iPad iOS or Android APK.