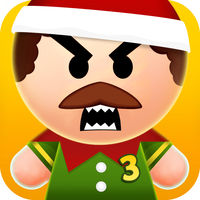 Release Date: 2013-12-11
Current Version: 2.0.3
Adult Rating: 17+
Developer: Game Hive Corp.
Compatibility: iOS, Android
Rating:

3.71806/5 from 681 votes
Your dream has come true. All your life you want to beat your boss, and now you finally can. With 50 million downloads to date, it is no secret that this is everybody's favorite stress relief game. Your boss knows that you are playing this game, and there is nothing he can do about it.
? Customize your boss: Evil comes in many forms. You can make your own!
? Customize your weapons: Camouflage or champagne color grenade? It's up to you.
? Premium Weapons: 100+ all new lethal weapons to make your boss to wet his pants.
? Physics Simulated: Get a satisfying reaction to all your intense beating
? Funny one-liner: Don't laugh out too loud at work
? World tour: Play in beautiful hand-crafted stages!
Download free Beat the Boss 3 app for iPhone, iPad iOS or Android APK.