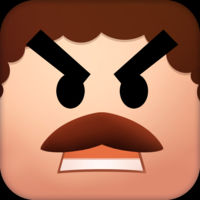 Release Date: 2015-12-16
Current Version: 1.1.12
Adult Rating: 12+
Developer: Game Hive Corp.
Compatibility: iOS, Android
Rating:

4/5 from 2,889 votes
Many of you may have wonder, why is Joe "The Boss" so annoying? Looking at him just make you want to beat the living daylight out of him. Well, in this BEST sequel of the HOTTEST franchise BEAT THE BOSS, you will finally know where he is from and why you need to take vengeance on him and his ignorant friends.
– Immersive WORLD: 10 Maps and 30 interactive stages is the biggest boss town ever.
– Customize EVERYTHING: Weapons, Bosses, stages. Power is right on your fingertips.
– Premium WEAPONS: 130+ hilarious weapons that will keep you entertained for months
– Unique BOSSES: 180 custom-crafted bosses that make your intense beating extra fun
– Play TOGETHER: Multiplayer! Beat up multiple bosses at a time!
Download free Beat the Boss 4 app for iPhone, iPad iOS or Android APK.