Block Force – Pixel Style Gun Shooter Game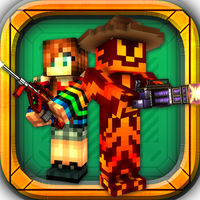 Release Date:
Current Version:
Adult Rating:
Developer:
Compatibility: iOS, Android
Rating:

4/5 from 36 votes
Block Force – Developed by JoyDo Studio.
JoyDo Studio: the developer of the famous games 'Cops N Robbers (FPS)' , 'Cops N Robbers(Jail Break)' and 'Survival Games'.
'Block Force' is the new online pixel fps game developed by JoyDo Studio,released by Riovox Company.We are committed to develop the best online pixel shooting game on mobile.This time, we bring a whole new experience for you.Keep fighting to be the best shooter.
Features:
1.Online Competitive & Optimize network experience: 1 server with 5 regions(GLOBAL, US, EU, ASIA, JP)
2.More players fighting in one room: up to 20 players in the same room.
3.Graphics: shock of visual effect with 3D pixel style.
4.Sound effect: professional sound effect design.
3.Five mode: Death Match,Killing Competition, Stronghold, Explosion, Mutation(Zombie), Hunting.
4.Friend System: add friends in game, fighting with buddies all around the world!
5.Skin Editor: create your own skins.
6.Hat & Cape & Boot: equip hat, cape and boot to your character.
7.Growth System: keep fighting to promote your rank.
8.Slots: Win all the items in game from here.
9.Reward System: rich game rewards, give you a sustained combat power
10.Reasonable in game store: provide more choice.
Feedback:
riovoxfeedback@gmail.com
Download free app for iPhone, iPad iOS or Android APK.