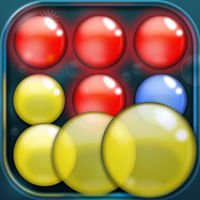 Release Date: 2010-06-19
Current Version: 3.6.0
Adult Rating: 4+
Developer: Spooky House Studios UG (haftungsbeschraenkt)
Compatibility: iOS, Android
Rating:

3.5/5 from 52,432 votes
Bubble Explode has been Top 1 free app in UK, Canada, Netherlands, Russia and has been in Top 5 free apps in USA, Australia, Germany, France, Italy, Spain and many other countries!
Take your Bubble Exploding / Popping / Breaking experience to the next level with nice animations, bonuses, global online scoreboards, original game modes and much more!
Features:
– NEW: 4 skins: Classic, Pumpkins, Jewels and Monochrome
– Chain reaction bubble Explosions
– Slick animations
– 9 game modes: Classic, Chill Out, Bubble Invasion, Bubble Shootix, Critical Mass, Turn By Turn, Gravity, Swapper and Power of Two
– Bonuses for exploding bubble groups of nice shapes: squares, lines, corners, etc…
– Global online scoreboards
– Accelerometer based bubbles lighting
– Undo up to 10 moves back
– 5 animation speed settings : Slow Motion, Normal, Fast, Turbo, and Animations Off
– Saves game on exit or a phone call
REVIEWS BY OUR USERS:
"OMG this game is highly addictive! I keep telling myself in my head to stop playing after a long time on the game, but my finger keeps finding more bubbles to pop! It was so hard to peel myself away from it to write this review!" – by Horrible Apps
"SO ADDICTING!!!!! So Much fun is a Must Have Game. PS Cats ROCK. meow" – by Ephesians
"It is so sweettttttt!!!!!! I love it" – by Em3740
"This game is super addicting!!! Long live Bubble Explode!!!" – by The AC Method
Download free Bubble Explode - Blast & Burst app for iPhone, iPad iOS or Android APK.