Bubble Pop – Shoot Bubbles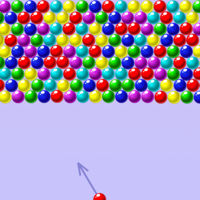 Release Date: 2015-07-23
Current Version: 1.62.2
Adult Rating: 4+
Developer: Yonatan Erez
Compatibility: iOS, Android
Rating:

4/5 from 2,770 votes
Shoot and burst all the bubbles with Bubble Pop game and beat all the fun challenges!
Play the popular bubble popper game on your iPhone or iPad device for free. We have developed this awesome bubble blast game for all of you fans of puzzles who want to train your brain and practice on your matching skills.
Shoot bubbles and match 3+ colors to pop, clear all the bubbles to win the game.
– Drag your finger to move the laser sight
– Aim at your target
– Lift your finger to shoot bubbles
– Match at least 3 bubbles of the same color to pop the group and clear the screen.
Levels Mode:
– Enjoy over 600 amazing puzzle levels
– Discover awesome boosts, power ups and other fun surprises.
Classic Mode:
– Win as many points as you can to beat your friends' scores.
– For each time you miss a shot, you lose a "life", when the "life bar" ends – new bubbles will come!
– Use the aim sight to aim better by dragging your finger on the screen and lifting to shoot.
* Simple yet fun
* Addictive as ever
* Game center leaderboards
Download free Bubble Pop - Shoot Bubbles app for iPhone, iPad iOS or Android APK.