Bunny Shooter Christmas – a Free Game by the Best, Cool & Fun Games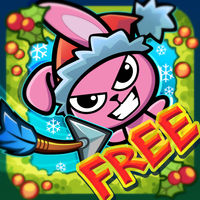 Release Date: 2011-12-14
Current Version: 1.1
Adult Rating: 4+
Developer: Best Free Games - Top Apps
Compatibility: iOS, Android
Rating:

4.2019/5 from 10,817 votes
Bunny Shooter Christmas edition!
Featuring 30 NEW LEVELS!
Shoot the pink bunnies with your bow & arrow!
Bunny Shooter is an amazing physics based bow and arrow shooting game!
Features:
+ Bow & Arrow Shooting
+ Hours of Fun
+ Many pink, angry bunnies for you to shoot!
+ Game Center Leaderboard
+ Facebook & Twitter integration
+ 30 NEW levels!
+ Ring of Doom: just blow the bunnies away!
+ Custom Bow Skins!
Get Bunny Shooter Christmas while it's FREE!
Download free Bunny Shooter Christmas - a Free Game by the Best, Cool & Fun Games app for iPhone, iPad iOS or Android APK.