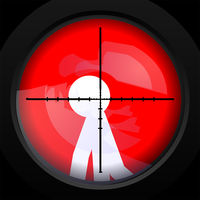 Release Date: 2014-01-23
Current Version: 1.1.7
Adult Rating: 17+
Developer: Eldring Games AB
Compatibility: iOS, Android
Rating:

4.5/5 from 164,004 votes
#Free to play!# The third installment in AppStore's #1 Sniper adventure!
• Tyler lives a good life, a murderous hitman during the day, loving family-man at night. He has become the success he always dreamed about, but someone is on his trail and threatens to ruin it all…
• AIM AND FIRE! Breathe slowly, pick up your rifle, put your target in your sight and fire when ready.
Feature Overview:
• Fully customizable weapons!
• 55 Unique missions!
• Animated Cut Scenes
• Gripping Storyline
• Blood and Gore Animation
• Wind and Distance Calculation
• Cool game world
• The follow up to "Clear Vision (17+)" & "Clear Vision 2"
Visit us on Facebook
http://www.facebook.com/ClearVisionOfficial
Download free Clear Vision 3 app for iPhone, iPad iOS or Android APK.