Dino Hunter: Deadly Shores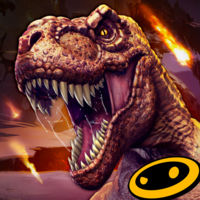 Release Date: 2014-07-09
Current Version: 3.6.1
Adult Rating: 17+
Developer: Glu Games Inc
Compatibility: iOS, Android
Rating:

4.64257/5 from 8,651 votes
Hunt or be hunted! Embark on the hunting expedition of a lifetime in pursuit of the ultimate game in Dino Hunter: Deadly Shores.
HUNT DINOSAURS
Journey to a hidden, untouched island and hunt the most ferocious animals in history. Encounter beasts long thought extinct, from the docile stegosaurus to the terrifying T. rex.
VISIT EXOTIC LOCATIONS
Hunt through lush and dangerous environments like the shipwreck-strewn coast, overgrown jungle and dinosaur boneyard!
EQUIP POWERFUL WEAPONS
Load up on firepower with destructive weapons like the rocket launcher and shuriken crossbow. You'll need a powerful arsenal and an expert strategy to take down these beasts!
MASTER A UNIQUE CHALLENGE SERIES
Progress through varied hunting series to win rifles, shotguns and assault rifles. Complete them all for even greater rewards!
EXPERIENCE AMAZING GRAPHICS
Dynamic shadows, hi-res textures and realistic models all combine to make this one of the most beautiful hunting games on your mobile device!
"It's as if Glu Mobile was listening in on my mind as I imagined how good Deer Hunter 2014 would be with dinosaurs." – Kotaku
"… I am totally, absolutely, 100% completely behind blasting dinosaurs with guns until they explode, and happily that's exactly what Dino Hunter: Deadly Shores will let you do." – AppSpy
"Dino Hunter: Deadly Shores dishes up tons of behemoth-shooting action. It's an easy game to enjoy." – Gamezebo
"Dino Hunter: Deadly Shores is a solid shooter. The dinosaurs in the game are very well detailed and the game allows you to jump right in…" – Modojo
NOTE: The iPod Touch 4th Gen is not supported
——————————————–
PLEASE NOTE:
– This game is free to play, but you can choose to pay real money for some extra items, which will charge your iTunes account. You can disable in-app purchasing by adjusting your device settings.
– This game is not intended for children.
– Please buy carefully.
– Advertising appears in this game.
– This game may permit users to interact with one another (e.g., chat rooms, player to player chat, messaging) depending on the availability of these features. Linking to social networking sites are not intended for persons in violation of the applicable rules of such social networking sites.
– A network connection is required to play.
– For information about how Glu collects and uses your data, please read our privacy policy at: www.Glu.com/privacy
– If you have a problem with this game, please use the game's "Help" feature.
Download free Dino Hunter: Deadly Shores app for iPhone, iPad iOS or Android APK.