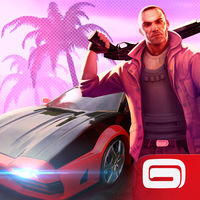 Release Date: 2013-06-07
Current Version: 4.9.1
Adult Rating: 17+
Developer: Gameloft
Compatibility: iOS, Android
Rating:

4.63926/5 from 100,106 votes
Roll up on a dangerous new trip through the City of Sin in the latest episode of the acclaimed open-world action series!
WELCOME TO OUTRAGEOUS VEGAS
v Play as a mixed martial arts fighter in a BLOCKBUSTER STORY MODE
v Make your way through 80 ACTION-PACKED MISSIONS
v Team up with the wildest characters to take over the city
ENDLESS SANDBOX FUN
v Explore a BIGGER MAP, 9x the size of previous Gangstars
v Perform amazing stunts with ragdoll effects making use of HAVOK PHYSICS
v Climb the leaderboards in WILD CHALLENGES like races, fights, carnage missions & more!
v Break the bank in addictive CASINO GAMES
A RIDE ON THE WILD SIDE
v Access INSANE WEAPONS like Molotov Cocktails, Flamethrowers & an Electric Guitar!
v Drive CRAZY VEHICLES including monster trucks, muscle cars & fighter jets
v UPGRADE YOUR SKILLS & GEAR and customize their appearance
**This game is packed with so many cool features that we recommend installing it through iTunes. It will require less of the available storage on your device!**
** Supports Game Controllers made for iPhone, iPad and iPod touch. Game Controller support requires iOS 7 or later and is compatible with iPhone 5, iPhone 5s, iPhone 5c, iPad 2 or later, and iPod touch (5th generation).
_____________________________________________
Visit our official site at http://www.gameloft.com
Follow us on Twitter at http://glft.co/GameloftonTwitter or like us on Facebook at http://facebook.com/Gameloft to get more info about all our upcoming titles.
Check out our videos and game trailers on http://www.youtube.com/Gameloft
Discover our blog at http://glft.co/Gameloft_Official_Blog for the inside scoop on everything Gameloft.
_____________________________________________
Certain apps allow you to purchase virtual items within the app and may contain third party advertisements that may redirect you to a third party site.
Download free Gangstar Vegas app for iPhone, iPad iOS or Android APK.