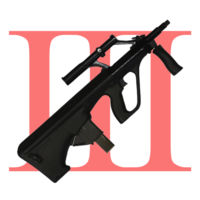 Release Date: 2011-03-05
Current Version: 3.58
Adult Rating: 17+
Developer: Yizhan Ye
Compatibility: iOS, Android
Rating:

4.01834/5 from 1,745 votes
Build your own guns!
1- Build & Fully Customise.
2- Create Animations: Reload, Pump-action, Bolt-action, Recoil.
3- Customise Sounds: Fire, Mag-in, Mag-out, Cocking.
4- Customize skin: Camouflage, Painting
* Gun Building 3 let you create your own weapon in 3D, all the way down the inner parts.
* Take your gun to the FPS game and modify your weapons.
* Huge selection of parts and attachments.
* Various camps for many combat situation.
* All in realistic 3D.
Download free Gun Building 3 app for iPhone, iPad iOS or Android APK.