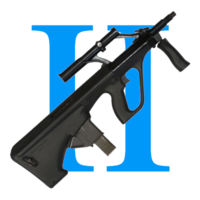 Release Date: 2011-12-13
Current Version: 1.34
Adult Rating: 17+
Developer: Yizhan Ye
Compatibility: iOS, Android
Rating:

3.5/5 from 1,370 votes
* Build & Customize.
* Camera Mode let you fire in your camera.
* Record real-life FPS video.
* Play zombie game with your own guns.
====================================
You have 60+ original guns to customize. Build them your way with gun parts and fire, rotate, and zoom in to see all the details in 3D. Augmented Reality bring the guns to your Camera, fire and 'shoot' anything in the camera is amazing.
* Build & customize with realistic gun parts and models.
* Record real-life FPS video like video game.
* 12 Camoflag.
* Put the guns to your camera and shoot.
* Awesome zombie games.
* Big selection of guns and more coming soon.
Download free Gun Building II app for iPhone, iPad iOS or Android APK.