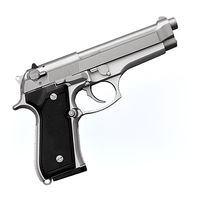 Release Date: 2009-02-25
Current Version: 6.3
Adult Rating: 17+
Developer: Mobile Dev Group LLC
Compatibility: iOS, Android
Rating:

4.3384/5 from 724 votes
GunApp is a weapon simulator for the iPhone.
Features:
– A HUGE library of over 150+ highly detailed animated guns and weapons ranging from M16's to to Nuclear Weapons!
– Hide, show, and reorganize the weapons to your liking!
– Detailed Descriptions of each weapon. Read all about your favorite gun in amazing detail straight from Wikipedia!
– Multiplayer! Shoot your friends over the local wifi!
– Developers who listen to what you want. Suggest improvements or weapons to us we want to hear it!
– Add free mod weapons from the community, or make your own!
– New weapons, features and improvements added all the time – THE UPDATES NEVER STOP!
'Critics say: …an awesome weapon for every occasion! -Keshin4539'
If you have any problems opening GunApp, try reinstalling, or write to us at gunapp@mobiledevgroup.com
Download free GunApp app for iPhone, iPad iOS or Android APK.