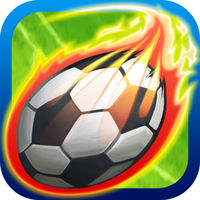 Release Date: 2012-02-04
Current Version: 6.9.2
Adult Rating: 4+
Developer: D&D Dream Corp.
Compatibility: iOS, Android
Rating:

4.72541/5 from 72,417 votes
??????????????????????????????????
App store(12 Country) "Overall Rank.1"
App store(54 Country) "Sports category Rank.1"
Thank you~
———————————————————
France,Germany,Hong Kong,Italy,Korea,Singapore,Spain,Austria, Cyprus,Mexico,Greece,Hungary,Indonesia,Ireland,Israel,Jordan,Kuwait,Luxembourg,Macau,Malaysia,Netherlands,Poland,Portugal,Saudi Arabia,Sweden,Switzerland,Taiwan,Thailand,Turkey,United Kingdom,Uruguay,Vietnam
—
??????????????????????????????????
Move to the side, hard-to-control soccer !
A soccer game with easy controls that everyone can learn in 1 second.
Beat the opponent with fancy lethal shots such as dragon shoot, ice shoot and lightening shoot and win the tournament.
You can also matchup with friends or global users through the gamecenter.
Play this fun soccer game anytime, anywhere.
¦¦ FEATURES ¦¦
+ Various 69 Avatars & Unique Special Shot !!
+ 6 Game mode (Arcade, Tournament, Survival, League, Head Cup, Death Mode)
+ Bluetooth Multi Play Mode
(Play with your friends near !!)
+ Online Multiplayer via GameCenter (at least iso 6.0)
+ Physics based gameplay (Box2d)
+ GameCenter Leader boards
+ Submit Facebook
¦¦ D&D DREAM GAMES ¦¦
+ Dinosaur Slayer
+ Zombie Sweeper
+ Crasher
+ IChallenger: Return
+ Tiny Brush
+ Millionaire Show
+ GOL:Legend
+ Mach Jumper
+ The Last Supper
+ The Nine
+ Robot Fly
+ Head Basketball
> Website: www.dnddream.com
> e-mail: Game@dnddream.com
> Facebook: Facebook.com/dnddream
Download free Head Soccer app for iPhone, iPad iOS or Android APK.