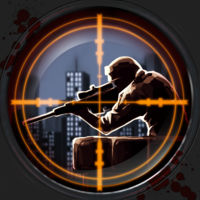 Release Date: 2011-08-17
Current Version: 1.2.1
Adult Rating: 17+
Developer: Triniti Interactive Limited
Compatibility: iOS, Android
Rating:

4/5 from 1,362 votes
the EPIC 3D SEQUEL to HIRED GUN. STEADY your SIGHTS… WAIT for IT… BOOM!
???
word has arrived that terrorists are staging an attack on the city center…
time is short, and the authorities have called on the world's deadliest sniper:
name: unknown
sex: female
status: babe
with looks to kill and even deadlier aim, this babe is ready to take care of business. she must locate and take out the hiding terrorists before it's too late.
the city's people are counting on it…
???
• FULL 3D AUDIO and VISUAL ENVIRONMENTS
• step INTO the CROSSFIRE, UPGRADE YOUR RIFLE, and play as the WORLD'S DEADLIEST SNIPER
• ADVANCED COMPUTER AI, sure to keep you CHALLENGED and ENGAGED
???
• 7 classic, upgradeable SNIPER RIFLES
• 8 expansive 3D ENVIRONMENTS
• 8 action-packed MISSION TYPES
• unlimited ultra-challenging STAGES
• 10 unique ENEMIES
• full RETINA DISPLAY + IPAD SUPPORT
• game center LEADERBOARDS + ACHIEVEMENTS
???
Tweets by TrinitiGames
http://facebook.com/TRINITIgames
Download free Hired Gun 3D app for iPhone, iPad iOS or Android APK.