iGun Pro 2: The Ultimate Gun Application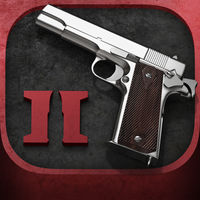 Release Date: 2017-04-26
Current Version: 2.66
Adult Rating: 12+
Developer: Crimson Moon Entertainment LLC
Compatibility: iOS, Android
Rating:

4.75863/5 from 24,353 votes
Add attachments, create your own camouflage skins, fire your custom guns and enter global design contests to win coins and cards, unlocking and upgrading weapons! iGun Pro 2: The Ultimate Gun Application is a game truly worthy of the iGun Pro Franchise!
iGun Pro 2 builds upon the core features of the original app and introduces several exciting new gameplay elements for users to enjoy:
FEATURES
? Collect guns to build and upgrade your arsenal with an ever growing selection of firearms, including grenade launchers.
? Virtually load and fire your gun collection
? Earn crates to unlock rewards, collect new guns and upgrade existing arsenal.
? Make each gun truly unique with a mobile-optimized, touch-friendly painting system with customizable colors, patterns and version slots that allow for unlimited designs.
? Become the ultimate gunsmith create the perfect weapon with a flexible attachment system that allows attachment nesting
? Win loot and fame by competing in design contests against iGun Pro 2 users around the world
? Progress through multiple levels, unlocking new guns, attachments, and skinning materials, all the way to the top
? Easily share your creations through text or social media
? High-quality graphics for ultra-realistic simulation
? Customize your guns and lay them out how you want to create the ultimate gun wall.'
iGun Pro 2, is the next chapter to the most successful virtual gun simulation app, featured in TV shows like Parks and Recreation and favorite YouTube Channels like Smosh. With a rapidly growing library of guns available, endless customization possibilities and worldwide design contests, the fun keeps going.
iGun Pro 2 evolved from the great feedback from our users. With the launch of iGun Pro 2, users can create a custom arsenal like never before. Our developers are always listening to what you want next! Give us feedback on our Facebook page at www.facebook.com/iGunPro.
Download free iGun Pro 2 app for iPhone, iPad iOS or Android APK.