Minesweeper Classic – Puzzle Bomb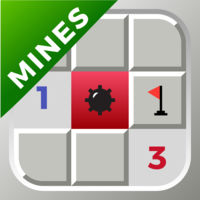 Release Date: 2009-03-27
Current Version: 3.12.1
Adult Rating: 4+
Developer: Maple Media Holdings, LLC
Compatibility: iOS, Android
Rating:

4.68703/5 from 45,890 votes
Minesweeper is one of the most classic games played in history!
Solitaire starting to get dull? Need something a little more stimulating than a card game? Try the classic (and best) version of minesweeper. Not as sexy as some other versions, but more fun! This is the free, ad-supported version of the original, Minesweeper Classic.
Objective:
Start with a covered field of squares and clear the screen by uncovering one square at a time. Beneath each tile is a number (indicates how many mines are touching the tile), a blank space, or a mine waiting to be exploded!
Gameplay:
– Tap a square to clear it
– Tap and hold to drop a flag
– Tap a numbered square next to that many flags to clear the rest
Features:
– Pinch to zoom
– High scores leaderboard for each difficulty
– Stats tracking to keep track of your games for each difficulty
– Adjustable difficulty: Beginner, Medium, Difficult, and Custom
– Best, smoothest, fastest interface of any iPhone Minesweeper game
– Flag button: Keep tabs on what tiles to avoid mines!
Download free Minesweeper Puzzle Bomb app for iPhone, iPad iOS or Android APK.