N.O.V.A. 3: Freedom Edition – Near Orbit Vanguard Alliance game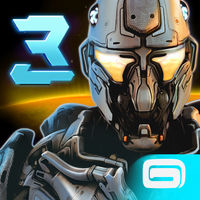 Release Date: 2014-10-16
Current Version: 1.0.0
Adult Rating: 17+
Developer: Gameloft
Compatibility: iOS, Android
Rating:

4.5/5 from 30,514 votes
The most immersive and impressive sci-fi FPS franchise on smartphones is now completely free! Fight for humankind's survival!
Four months after Kal Wardin defeated the Volterites, President Folsom is assassinated and the beleaguered colonies surrender to the Volterite Protectorate.
Since then, Kal has been lying low, but a desperate plea from Yelena calls him back to save Earth and humankind…
• An epic storyline: Humanity finally returns to Earth after years of exile! Fight in 10 immersive levels across the galaxy, from a war-torn Earth to a frozen Volterite city.
• Multiple weapons and powers: Run, shoot, drive vehicles, and pilot a mech to defeat hordes of enemies.
• Join 12-player battles in 7 multiplayer modes (Capture the Point, Free-for-All, Capture the Flag, etc.) on 7 different maps.
• Use Voice Chat to communicate with your friends in real time! (Voice Chat available only on iPad 2, iPhone 4s or later models.)
• For the first time, multiple allies can jump inside the same vehicle and spread destruction on the battlefield.
_____________________________________________
Visit our official site at http://www.gameloft.com.
Follow us on Twitter at http://glft.co/GameloftonTwitter or like us on Facebook at http://facebook.com/Gameloft to get more info about all our upcoming titles.
Check out our videos and game trailers at http://www.youtube.com/Gameloft.
Discover our blog at http://glft.co/Gameloft_Official_Blog for the inside scoop on everything Gameloft.
_____________________________________________
This app may contain third party advertisements that may redirect you to a third party site.
Privacy Policy : http://www.gameloft.com/privacy-notice/
Terms of Use : http://www.gameloft.com/conditions/
End User License Agreement : http://www.gameloft.com/eula/
Download free N.O.V.A. 3: Freedom Edition - Near Orbit Vanguard Alliance game app for iPhone, iPad iOS or Android APK.