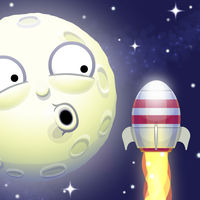 Release Date: 2014-08-28
Current Version: 1.75
Adult Rating: 9+
Developer: Shaun Coleman
Compatibility: iOS, Android
Rating:

4.65027/5 from 2,928 votes
THE MOON WILL NOT STOP SINGING!
Launch rockets at him to make him stop.
Hmm. That only annoyed him … Good! KEEP DOING IT.
Take an animated journey through the weirdest reaches of space…
* Balance risk vs reward. Longer shots = more points. But do not miss!
* Reach goal milestones for score-boosting bonuses and unlock a bunch of silly costumes!
* Features two game modes: Classic Mode and Sixty Second Challenge.
* How mad can you make the moon? Can you make him stop singing?
It's you versus the moon. As you always knew it would be someday.
—-
"A very approachable concept with a whole lot of personality and a surprising amount of nuance." 4/5 – Touch Arcade
"Anyone will be able to pick up the game and have a blast playing it." 4.5/5 – Modojo
Download free Shoot The Moon app for iPhone, iPad iOS or Android APK.