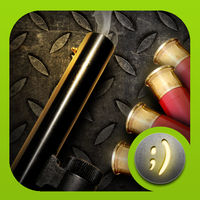 Release Date:
Current Version:
Adult Rating:
Developer:
Compatibility: iOS, Android
Rating:

4/5 from 36 votes
PREPARE FOR MAYHEM! Shotgun Free is back with an arsenal of upgrades!
•••••••••••••••••••••••••••••••••••••••••••••••••••••••
?? FULLY RELOADED ??
Now you can unleash a high-caliber Hellstorm with new guns, bold power-ups,
streamlined graphics, and Game Center integration.
?? FEATURES ??
• Realistic accelerometer-controlled action – shake to cock, tilt to fire
• A core set of high-powered shotguns
• Achievements, awards, and unlockable specials
• Switch between left-handed and right-handed controls
?? GO PRO AND GET EVEN MORE ??
Upgrade to Shotgun Pro to lose the ads and tap into the full arsenal of shotguns!
________________________________________________________________
We are proud to call Shotgun Free a Shiny MEDL Object. Check out our entire
lineup of apps at www.medlmobile.com.
Download free app for iPhone, iPad iOS or Android APK.