Star Warfare:Alien Invasion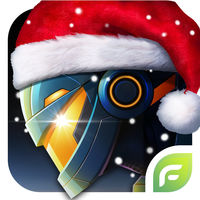 Release Date:
Current Version:
Adult Rating:
Developer:
Compatibility: iOS, Android
Rating:

4/5 from 36 votes
v2.93 Update
-Add two new weapons added
-Add new Armor suit
-Add a new backpack
-Fix minor bugs
Thanks for your support. Should you have any ideas, please send an email to ios@freyr.com.
Download the @FreeAppADay Store App and wish for more top rated paid apps like Star Warfare:Alien Invasion to become FREE for a day!'
*********New contents are coming!!!******
Top 10 free game in 62 stores!!
1 million downloads in 5 days!!
Epic online boss battles!!
Console-quality boss battles, 48 single player levels, multiplayer supported, tons of gear and unique avatars to collect!!
********
Solid single player mode
* Various enemies with rich AI
* Console-like smooth control
* 8 maps and 48 levels, loot can be used in solo and multiplayer modes
*******
Simply the best co-op shooting game on smart phones
* Console-quality boss battles, team with up to 3 players(WIFI, 3G)
* Earn more gold in team survival mode.
* Armor and bags specially designed for team battle
************
Rich and flexible gear system
* 42 weapons, each upgradable 8 times, unlocked as you promote up the ranks.
* 18 Suits, each part with special attributes, a whole collection provides extra bonus. Elite suite entitles an extra special buff.
* Mix&match weapons with suits to earn additional damage
* 24 military bags with special functions
************
Follow us to know game updates and sale information
https://twitter.com/#!/FreyrGames
http://www.facebook.com/pages/Freyr-Games/159454344141173>
bug report: ios@ifreyr.com
Download free app for iPhone, iPad iOS or Android APK.