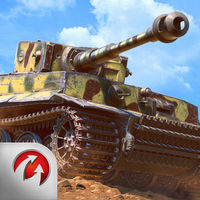 Release Date: 2014-06-28
Current Version: 7.2.2
Adult Rating: 12+
Developer: WARGAMING Group Limited
Compatibility: iOS, Android
Rating:

4.60226/5 from 67,708 votes
World of Tanks Blitz is a free-to-play mobile MMO action game developed by Wargaming, the award-winning online game developer and publisher of World of Tanks, the smash PC hit now with over 110 million players worldwide!
Drawing inspiration from the PC version, World of Tanks Blitz is built specifically for optimal online mobile gameplay and is currently available on your iPhone, iPad and iPod Touch.
With an impressive roster of over 250 massive tanks, stunning graphics, and intuitive touch-screen controls, World of Tanks Blitz makes it easy to jump into short, action-packed 7vs7 tank battles no matter where you are!
"The very best multiplayer you'll find for your mobile."
— Pocket Gamer
"A lot of tanks, a lot of people and a lot of fun."
— IGN
Requires an Internet connection and iPad 2 / iPhone 4S or better to play.
FEATURES
• Over 250 iconic WW2 vehicles from nations across the world
• 23 unique battle arenas
• Strategic 7v7 online multiplayer
• Free-to-win: equal access to in-game elements for everyone
• Deep progression system: 10 tiers of tanks to unlock and explore
• Innovative crew upgrades to enhance your tank and refine your gaming style
• Constant updates and graphical enhancements; optimization for various devices
• Easy to learn, intuitive touch screen controls
• In-game chat and Clan chat functionality
• Battle Missions that open up new, personalized challenges and let players earn bonuses and achievements
• Clan functionality allowing players to unite in their pursuit of victory and invite their friends to play online
Download World of Tanks Blitz now FREE!
For more information please visit http://wotblitz.com/
Download free World of Tanks Blitz MMO app for iPhone, iPad iOS or Android APK.