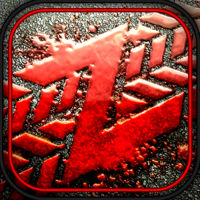 Release Date: 2010-08-27
Current Version: 1.10.10
Adult Rating: 12+
Developer: Auxbrain, Inc.
Compatibility: iOS, Android
Rating:

4.088/5 from 2,693 votes
'[Zombie Highway] will keep you racing down that highway more times than you're willing to admit.' – Appadvice
'Zombie Highway a sublime blend of ease, skill, violence' – Appolicious.com
'..this game oozes fun' – Slide To Play
'..running from hordes of zombies is just so much fun… effortlessly recommended.' – Touch Arcade
'We had a very hard time putting this one down to write the review' – App Smile
Why aren't you playing yet? Join 10 million people from around the world!
———————————————-
The goal is to survive… but you wont. How far will you go?
It's you, your heavily armed passenger, against a boatload of super-strong, leaping zombies.
TILT
Steer to avoid obstacles all while trying to SMASH latched on zombies into debris – OR – run them down before they can
jump on your car!
TAP
Shoot zombies with a growing arsenal of handguns, shotguns, and automatics. Shoot recently smashed zombies for extra damage!
REPEAT
Improve your skills, unlock weapons, beat all your friends on facebook! It will be hard to put this one down.
Cars. Guns. Zombies. What more could you want!?
Key features:
– Crisp 3D graphics – **runs at full 960×640 Retina display on iPhone 4!**
– Immersive CD Quality Audio
– Highly Addicting, Highly polished gameplay
– High Scores: Compete globally or against your friends Game Center!
Seamless Game Center integration for easy, addictive competition
– 16 Guns (and growing)
– 8 Levels in 3 Environments!
– 4 Cars!
– 8 Different kinds of jumping zombies!
– Leaderboards for most kills and total miles
Download free Zombie Highway app for iPhone, iPad iOS or Android APK.